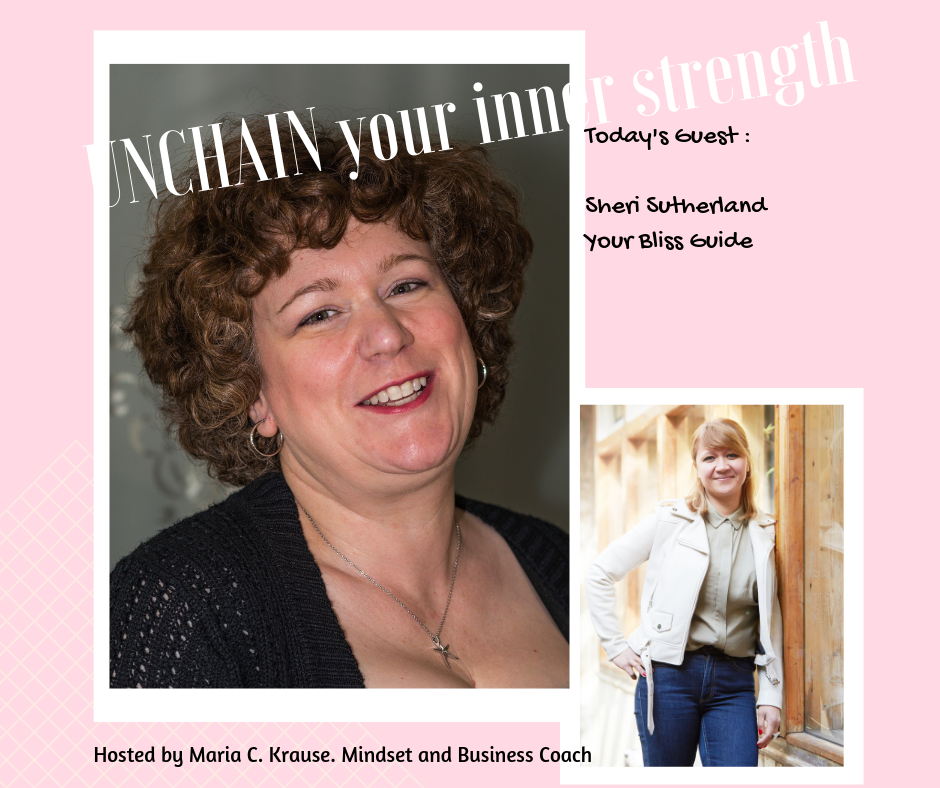 Hello Soul Sisters, welcome to another series of interview of our podcast, Unchain Your Inner Strength, where we interview women entrepreneurs from different backgrounds and niches of expertise, sharing their most valuable tips to be and feel more successful in all areas of your lives.
This week's guest is the energetic and awesome, Sheri Sutherland, YOUR BLISS GUIDE!
Sheri and I speak about the importance of getting out of your comfort zone and confront what you are most resistance of to get you the results that you want when improving your life.
We also talk about yoga, traditional therapy, passion and much more.
Here's what you should know about Sheri:
Hi, I'm Sheri Sutherland, your Bliss Guide here at Tranquility Soul Spa.
I desperately wanted to be the "with it" girl. You know the one.
She's always perfectly put together, and nothing more than a light breeze ever ruffles her feathers. She doesn't seem to do more than just think about something, and it comes to her effortlessly.
God, I had a love-hate relationship with her.
That was definitely NOT me. Not by a long shot. Instead, I was the "hot mess" gal. Maybe you can relate to her?
It felt like everything I did both personally and professionally was sub-par, that true success was always just out of reach, and that I must have done something absolutely awful in a past life to deserve so much misery in this one. There's no way all of this was just the luck of the draw, right? Basically…
It sucked
I needed to find a way to create a real work-life balance, so I could finally slow down and think more clearly, but there was nothing out there that truly helped.
I combined ideas & strategies for a long time until I finally found the secret formula that worked for me, for my friends, and now for my clients. I was so successful at using this three-step formula that now I teach women just like my old self how to use it for themselves, to get the same amazing results.
Stop asking yourself why the f*ck you're here, and start asking yourself how the f*ck you want to feel. Bliss should be a huge part of your life, and I can show you how to find it.
Facebook: The Shift: From Stressed Out To Blissed Out
Website: Tranquility Soul Spa
I am your host, Maria C. Krause, Mindset and Business Coach for new entrepreneurs who are ready to develop their unique skills and power and create a marketing strategy authentic to themselves.
To book a FREE 1-1 coaching session with me, CLICK HERE!
Love, Light, BE
Maria. XXX