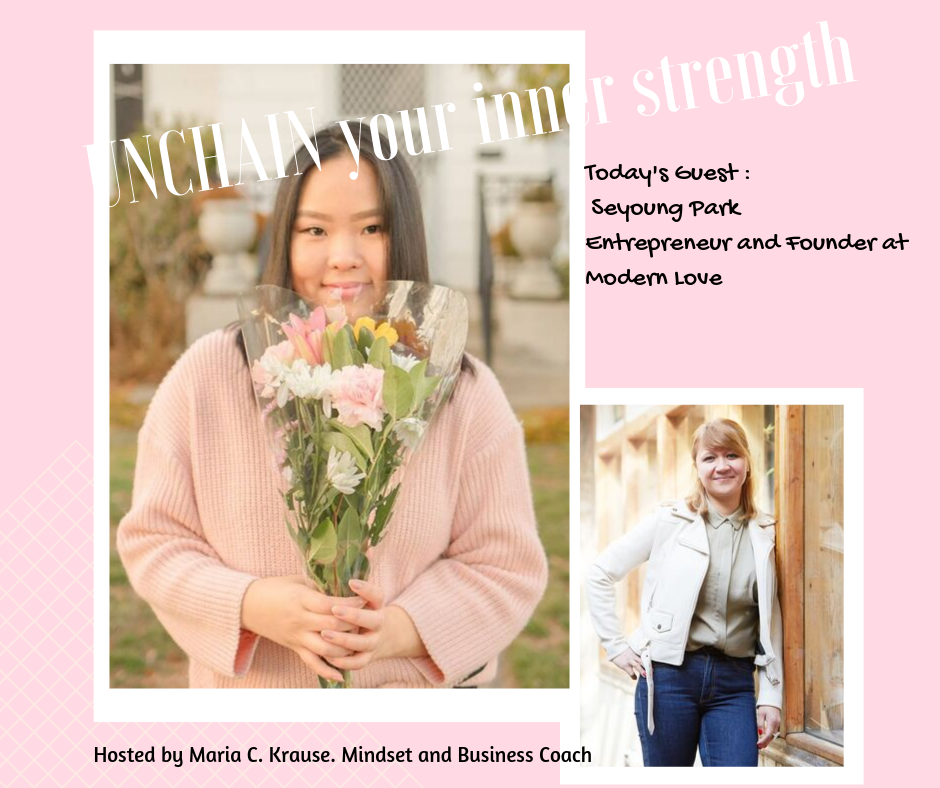 Hi Soul Sisters,
Welcome to another episode of our weekly series of interviews at UNCHAIN YOUR INNER STRENGTH. A podcast dedicated to female entrepreneurs who are ready to take full action, work on their mindset, their self beliefs and put the right strategies in place to grow their business.
In this week's episode our special guest is Seyoung Park, Entrepreneur and Founder of Modern Love.
We talk about following your passion straight out of college. Seyoung shares her experience in college, the projects she worked on that inspired her to follow her dreams to help women become their own boss, and build a business from the soul. We also chat about the importance of collaboration and to lift each other up in the online world.
Seyoung is a true inspiration, at a young age she knew she was destined for more and made her mission to go after her dreams.
Here's where you can find Seyoung Park:
Facebook: Seyoung Park
Facebook group: Modern Love with Seyoung
Instagram: Moderlovesey
You can always contact her if you want to work with her or do some collaboration in her amazing platform where she invites bloggers to share their most valuable tips and advice to help other entrepreneurs rise and shine.
I am you host, Maria C. Krause. Mindset & Confidence Coach. Founder and Owner at UNCHAIN YOUR INNER STRENGTH podcast and online magazine.
Ps.: Don't forget to drop your comments and share this podcast with your entrepreneur besties for weekly dose of inspiration, motivation and business strategies.
Love, Light, BE
Maria. XXX